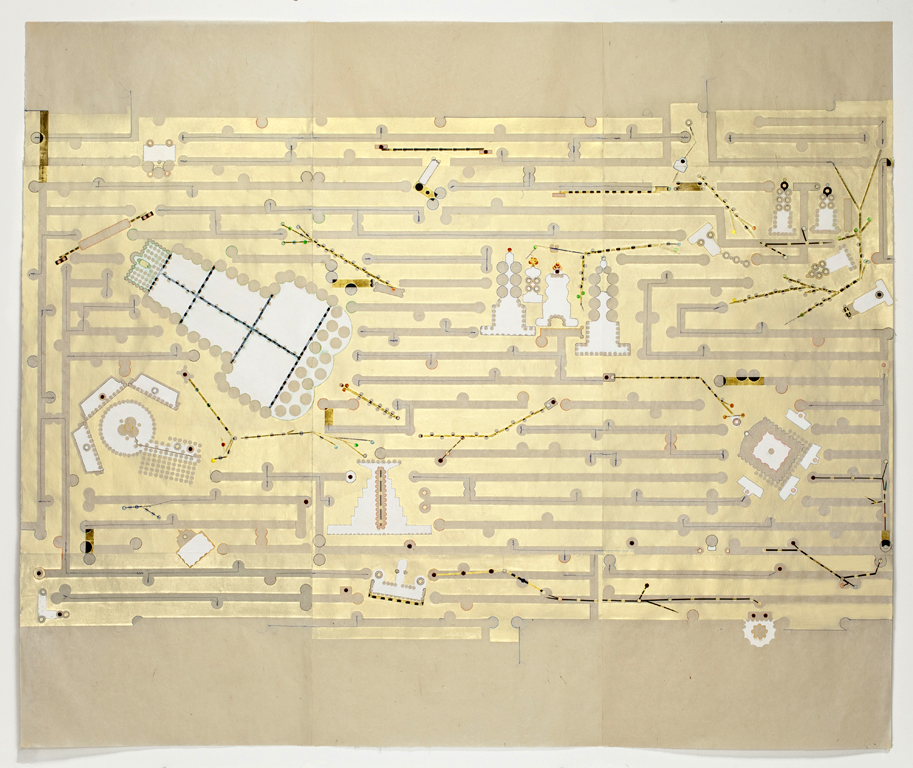 Jane Lackey, "golden maze, west"
Jane Lackey Artist Statement
My work explores forces that draw people together into temporary networks of activity and inter-relationship or consequence. In previous works, I have looked to our internal bio-systems to understand how we are different and what we have in common. Mostly we are the same, yet small differences create complex variation. Our cells function through systems of fluid affinities and alignments. Synapses bridge the gaps. Throughout it all, there is constant formation bringing success, failure, opposition, adaptation and change.
Looking at phenomena outside of us, similar characteristics are at work as we link and engage socially. Many forms of discussion and conversation both virtual and in situ move between us invisibly forming a glue of short-lived connections.  Mapping this ambiguous and effervescent space requires the ability to lock and unlock relationships. Consequently my tools of drawing are tape, stickers, dots labels and stitches of thread that are easily adhered or released as they mark direction, interaction and place. Thin coats of paint mask or reveal the delicate translucency of paper as a network of shapes is formed throughout.
In the fall of 2007, monks, nuns and activist in Burma (Myanmar) undertook a surprising protest, marching through specific public sites along the streets of Rangoon. A human chain of bystanders supported this quick and coordinated uprising against militaristic sanctions related to fuel prices. Images circulated around the world. In just a few days time, news of this clash was suppressed by the military and media access to its aftermath dissolved into thin air. My golden maze series maps the potential space of this march and its unknown system of coordination. I imagine how connections were made in suppressed circumstances involving secrecy, perhaps a code of communication within a maze-like structure. My audiences can engage and delve into intimate passages while developing their own narratives of space, time, and force.
Response by Carol Moldaw
Jane Lackey lives/ works in Santa Fe, New Mexico. She has had numerous national and international exhibitions and grants. Lackey was recently awarded the US-Japan Creative Artist Exchange Fellowship for 2011.  Carol Moldaw's most recent book is So Late, So Soon: New and Selected Poems (Etruscan Press, 2010).