H. L. Hix: I have kept returning to "Age of the Sentient Soul" (56), for its repetitions and dense music and eerie mood.  It makes me think about what it might mean to read the whole book as "contraband bluff," which of course makes me want to ask you if it makes sense to think of these poems as "contraband bluff" on which the body feeds.
Elana Wolff: Strange. I was thinking about this poem today, wondering for various inside reasons, if I should have included it in the collection. Then your mail slips in—with a request to look at Startled Night as a whole through the funnel of this very poem. I felt like I was having a Sebaldian moment—Sebald's oeuvre (Vertigo, The Emigrants, The Rings of Saturn, Austerlitz) is awash with this kind of coincidence…
You pinpoint the mood and music of the piece. When I started writing, my first compositions were musical—for piano. I needed a way to unload the soul, channel the angst. Musical composition allowed me to create through melody and mood, without words. The wordlessness meant everything. But I'm a poor pianist and could hardly play the pieces I composed. They were more of a preparation than an actual practice.
Once I took up writing poetry, I stopped composing. But musicality—rhythm, repetition, rhyme—has remained foundational. I'll often select a word as much for syllabic count and sound as for semantics. And music as a motif in my poetry is ongoing. In "Age of the Sentient Soul," she "hums a tune by an indie / singer, Oh, Oh, Oh, how I've done myself in (by Basia Bulat)… A tune she's been / crooning for weeks… Mother's music spread on the floor… Wherever she steps she touches the autoharp…"
My poems also rely on mood. In this I'm sure I've been encouraged by the work of Louise Glück—critic David Orr has called her a master of mood and scene setting. Ambience and association in the poem take priority over story—"Sabbath/sabbath"; "smoke/censer"; "a hush [allusion to the Mosaic bush] that burns but is not consumed." And the particularities of "smoking, humming, purging, falling and skewer[ing] the wound" give way to the suggestiveness of "the body feed[ing] on contraband bluff." You call the mood of this piece "eerie"; I would agree. This is a dark little poem. It was ominous when I wrote it, and it now returns as déjà vu.
As to whether it makes sense to think of all the poems in Startled Night as "contraband bluff on which the body feeds," I would have to say no—if by your question you mean to suggest that the pieces are all in some way deceptive or manipulative. (Plato would say they are.) Most of the pieces were written during my years of training in therapeutic art and early work in the field. They reflect and represent a phenomenological approach of working artistically toward personal and trans-personal integration. As such, even the most ironic, surreal, and playful pieces are attempts at a truthfulness—not necessarily facticity. Bluff is part of the body's way of being in the world, contraband is part of the shadow. The creative work of integration acknowledges the full gamut of personhood—the wholesome, beautiful, licit, and illuminated, as well as the ugly, illicit, deceptive, destructive, and destroyed. The poems in Startled Night address dark/light polarities and the potentiating energy of the shadow—in terms that inescapably derive from the personal, but also hopefully resonate, poetically, beyond.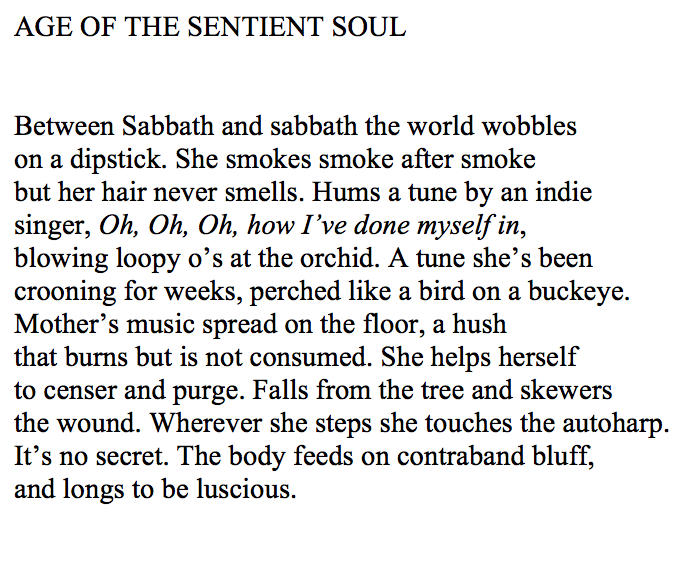 Elana Wolff.  Startled Night.  Guernica, 2011.